SPAIN EMOTIONS is an established and trusted travel agency based in Madrid, the exciting capital of Spain. With over 10 years of experience, we are world-class experts in Corporate Tourism and leaders in Sport & Cultural Tourism internationally. We offer the best in tailor-made travel experiences and events both locally and worldwide. Our proven track record in Spain and abroad ensures the maximum satisfaction and trust of our loyal customers, who keep coming back for the guarantee of quality, reliability and exceptional tours.
Our multicultural team is made up of creative professionals and travel experts who offer personalized attention, bespoke service and careful attention to detail.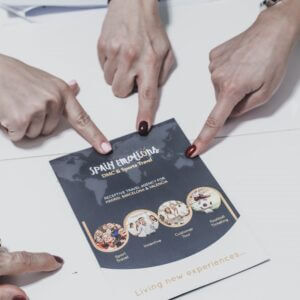 CORPORATE TOURISM: We organize corporate trips in Madrid, Barcelona and further afield. When designing our trips, we do not only guide ourselves on the destination, but we firstly listen carefully to our clients' needs and come up with the best solutions based on our client analysis and objectives. Each one of our corporate groups receives a unique experience that is completely adapted to all their specific requirements and individual needs. If you are looking for a credible and professional outfit to manage your tours, then look no further. DMC & Sports Travel has a bespoke solution for you.

SOLD OUT EVENTS: We offer the unique opportunity to attend the most amazing sold out events all over the world. Our experience and commitment ensures that you get those elusive tickets for the Champions League Final, the World Cup, the Madrid-Barcelona football derby (known as "El Clásico") or highly sought-after European Championship tickets. We have the right contacts and know-how to help you book your seat for the Olympic Games or the Super Bowl Final, and provide you with hard-to-find tickets to the New Year's Concert in Vienna, the premiere of the most highly awaited opera at La Scala, or top music festivals such as Coachella and Tomorrowland.

MEET & GREET: If you can dream it, you can do it. We create all kinds of exclusive meetings and events with celebrities from the world of music or sport. We design the ideal meet & greet format: motivational talks, private concerts, photo and autograph sessions with the world's most admired stars. Close your eyes and dream – Spain Emotions will take care of the rest.

FOOTBALL EXPERIENCE: As experts in sport, we organize friendly football matches with players of the great current Spanish teams as well as lineups formed by former greats – including legends from Real Madrid, FC Barcelona or Atlético de Madrid. We also offer a wide range of options for both groups and individuals, and for amateur or professional sportsmen and women who want to train in Spain and develop their full potential in this marvelous country.