MEET AND GREET
"IF YOU CAN DREAM IT, YOU CAN DO IT."
WALT DISNEY
Making a corporate event a memorable one is essential in order to differentiate a company from its competitors.
Our experience of more than 10 years in the sports and entertainment tourism sector allows us to offer the best meet and greet options, adapted to the preferences and objectives of our clients.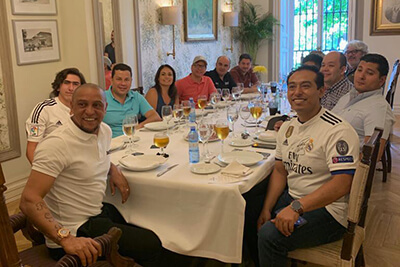 WITH WHOM IS IT POSSIBLE TO DO A MEET AND GREET?
International football legends are one option. These are famous players who motivate millions of people thanks to their participation in all kinds of football matches. We also recommend renowned musicians and stars who excite the masses with their songs.   
TYPES OF MEET AND GREET
– Public speech: Motivational talk given by an idol who represents the values you want to convey.
– Private Meet and Greet: Private meeting in a unique atmosphere reserved for the most exclusive clients.
– Training session or master class: Sports fans can enjoy a private session of ball mastery classes. (See further options in Playing with the Legends)
– Private concerts: Performances by national and international stars that will put the finishing touch to any type of private or corporate event.
– Customized Meet and Greet: Describe your ideal experience according to your priorities and we will send you our personalized proposal.
Spain Emotions is at the forefront of the MICE travel industry (i.e. tours centered on meetings, incentives, conferencing, and exhibitions). We are well positioned to advise you on corporate vacations and business tourism in the best locations and we have a large variety of services for the most demanding business travelers. Spain Emotions can book the best events and tours for your company or organization so contact us today for further information.
We help you organize everything you need for your MICE event, including promotional tours, corporate retreats, and much more. Every year, there are a large number of major exhibitions, conferences, and forums in Madrid and other world cities. We can help you become a participant of one of these events or organize your own conference for you.