REAL MADRID VS ATLÉTICO DE MADRID: THE DERBY PAR EXCELLENCE
Football tickets for Real Madrid – Atlético de Madrid will give you the opportunity to take part in one of the best matches of the season. You can get the tickets at the following link:
Do you want to witness one of the best matches in Spanish football? This match is one of the classics of the season, the derby par excellence in the Spanish capital. Both clubs have a great history of mythical matches behind them, such as the two Champions League finals, which the white team won, clashes in the Copa del Rey, in which Atlético de Madrid won one of those finals against Real Madrid and then derbies every year both at the Santiago Bernabéu and at Atlético´s home ground, the Civitas Metropolitano stadium.
And the thousands of encounters are not the only striking thing about this mythical football match. The supporters' rituals are also great fun, for instance the Atlético fans celebrate at the traditional Neptune Fountain in downtown Madrid and the Real Madrid fans celebrate at the Cibeles fountain when they win silverware. Both fans are very different in terms of values ​​and their way of understanding football, but if there is one thing that makes them similar, it is their desire to beat their eternal rival in one of the most important derbies of the year.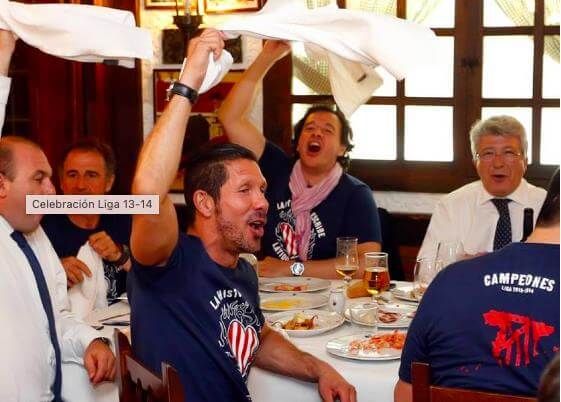 Diego Pablo Simeone's men arrive at the Bernabéu with somewhat low morale and self-esteem, after some very bad results in La Liga, losing against Cádiz and suffering in the Copa Del Rey tie, in addition to not playing in Europe this season. But despite these drawbacks, Atlético always grow in a match like this, beating their eternal rival in their stronghold, maybe providing them with the energy boost they need to end the season in a positive fashion.
As for Real Madrid, led by the legendary Italian coach Carlo Ancelotti, they have clear objectives: to get three points in front of their home fans, and to continue increasing their lead at the top of the table of the Santander League. Beating Atlético (also known as "Los Colchoneros") means continuing to convince their fans and remind all the Atlético supporters that they are the number 1 team in Madrid.
Rivalries between the fans, a lot of tension on the field and nervous moments on the benches, is what will be experienced in the Madrid derby, which will be played on February 26th at the Santiago Bernabéu stadium. You can get tickets right now for Real Madrid – Atlético de Madrid. You cannot afford to miss one of the best matches in the Santander League.
But, perhaps you are wondering, what are you going to do when the game is over? Don't worry; right away we are going to show you some of the best gastronomic, leisure or even musical alternatives that Madrid offers. Ready to discover them?
When you attend a match of these dimensions, it is always on your mind that maybe you will be lucky enough to meet or get a photo taken with your favorite player. After all, this is a lifetime dream that both the young and old have when they attend a legendary match like the Madrid derby. But today actually might be your lucky day, because we are going to reveal some of the restaurants, where many of the soccer players from both Real Madrid and Atlético de Madrid usually eat and hang out. Do you want to know which ones they are, to get a bit closer to the star players?
One of the best known eateries is Asador Donostiarra, located on Calle Infanta Mercedes, 79 in Madrid, it is one of the most visited restaurants by soccer players, such as Roberto Carlos, Figo, Luka Modric, among others. It is also the restaurant where Atlético de Madrid held its 2013-2014 League victory celebration. Its menu of meat and fish is a firm favorite amongst the elite of the sports world and the restaurant has a wonderful history of feeding winning, world-class teams.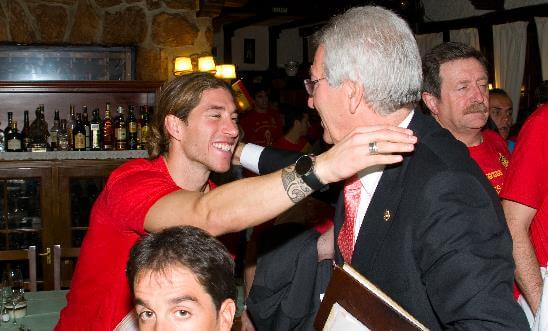 Another of the restaurants that is also located on Calle Infanta Mercedes, 111, is Asador Casa Paco, one of the most popular places for professional soccer players in Madrid. You can regularly see both Atlético de Madrid and Real Madrid players there. Its tasting menus are one of its excellences, although its traditional cuisine with touches of haute cuisine leaves the stars of the world of sports speechless.
Asador Txistu, which has the same friendly owner as Asador Donostiarra, is also one of the places most frequented by soccer players. This restaurant is located in Plaza Ángel Carbajo, 6 andReal Madrid players like Zidane, Luka Modric or Carlo Ancelotti himself visit this gastronomic paradise regularly to enjoy the best of meals in great company. In addition, it was the scene of the celebration of the World Cup in South Africa. Its exquisite barbecues and Basque food has captivated the palates of sports stars and many other celebrities for many years.
De María is another of the restaurants where soccer players love to hang out with friends and team mates and enjoy high quality cuisine. Such guests include Sergio Reguilón, current Atlético de Madrid player, or other sports personalities like the Murcian tennis player, Carlos Alcaraz. This incredible restaurant is located on Calle Félix Boix, 5 in Madrid and its gastronomy conquers the palates of soccer stars with its Argentine grilled steaks and its tasty garnishes.
These are just some of the restaurants where you can come across, if you're lucky, one of your favorite players, or even a celebrity from the world of sports, music or art. Furthermore, in Madrid, in addition to eating fine food in abundance, you can do many other things. Do you want to discover them?
Musicals are one of the most fashionable art disciplines in recent months, and there are plenty of theaters in Madrid to choose from. At the Teatro Gran Vía in Madrid, you can see the mythical and traditional Musical of the Lion King. At the Rialto Theater, the Musical of Mamá Mía has recently premiered, which is highly in-demand alternative in Madrid. Madrid is a vibrant city with thousands of bars, restaurants, shops and great nightlife with lively bars, discotheques, cinemas, cafés and the best of food and drink on offer. Fine Spanish cuisine and typical wine is available at reasonable prices in restaurants and bars on every corner.
Likewise, you can visit one of the fashion areas for shopping and buying the best in Spanish and international brands. It is located on the outskirts of Madrid, specifically in Las Rozas, near the Ciudad Deportiva de las Rozas, where the Spanish National Team is based, before its World Cup competitions. Las Rozas Village is one of the most visited outdoor shopping centers throughout the year, where you can find the main luxury brands at more affordable prices in a relaxed atmosphere with restaurants and bars nearby to relax too.
Another exciting option is to take an excursion to nearby historical cities like Segovia or Toledo or to picturesque towns like El Escorial or Aranjuez, where in addition to visiting its fascinating monuments and delightful streets, you can snack on some typical "churros" (fried pastry) with chocolate, a typical Madrid sweet.
These are just some of the alternatives you can choose from in Madrid, when the ball stops rolling at the Santiago Bernabéu and we find out the winner of the Madrid derby.